Here at PSW we want to make sure that you get the right support for the challenges you are currently facing. We are aware that with COVID-19, there will be many more questions you will want answered and so we have put together some COVID-19 FAQs to help guide you to the right place for support.
We are still offering 1:1 support virtually by telephone or video-call. 
You can contact us directly by emailing PSW.SW@hee.nhs.uk
---
Urgent Help:
- Tell someone you trust how you are feeling
- Samaritans (Call 116 123)
- BMA Wellbeing (Call 0330 123 1245)
- Practitioner Health (text 'PHP' to 85258)
- NHS confidential staff support line - 0300 131 7000
- Contact your GP
---
Where to get support:
There are many avenues available to access support which we have included here for you:
Your trust should have an Employee Assistance or Staff Support service available for you. Check your intranet pages or ask you HR dept. or PGME team for information
Occupational Health in your trust can be a significant source of support for physical and psychological health issues. Ask your supervisor for a referral or some OH depts. allow you to self-refer
Each trust as a SuppoRTT Champion for you to access for individual support returning to work after 12 weeks or more away from the work environment.
Well and Resilient Doctors - WARD - are a trust based peer support group for you to talk to
Health Education England - South West:
Us at the Professional Support & Wellbeing service - see how you can get in touch below
---
How to get in touch:
PSW aims to promote the well-being and personal development of doctors in training across Health Education England South West. Our team can provide support and assistance in tackling obstacles or key transitions, whether they be professional or personal. We offer a confidential, non-judgmental space in which to explore the challenges you are facing and make a bespoke plan of support.
If you are a trainee wishing to self-refer to PSW, please complete our self-referral form and return it to PSW.SW@hee.nhs.uk
If you are a trainer working with a trainee who would like to access PSW, please complete our referral form with the trainee and return to PSW.SW@hee.nhs.uk.
The PSW are very happy to answer any queries you might have, you can contact the team on PSW.SW@hee.nhs.uk.
If you have a concern regarding the provision of education and training in your placement, please contact the Quality Team.
---
PSW Webinars:
The Professional Support & Wellbeing team (Working across the SW) would like to invite you to join our free Well-being and Support Webinars. These are being held weekly. Please register your interest by clicking on this link or the QR code. 
---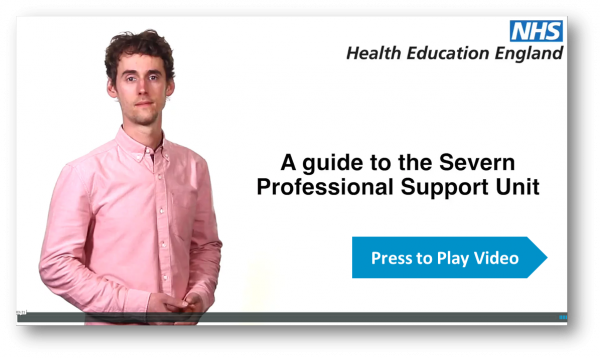 Please ensure you use Google Chrome to view this video